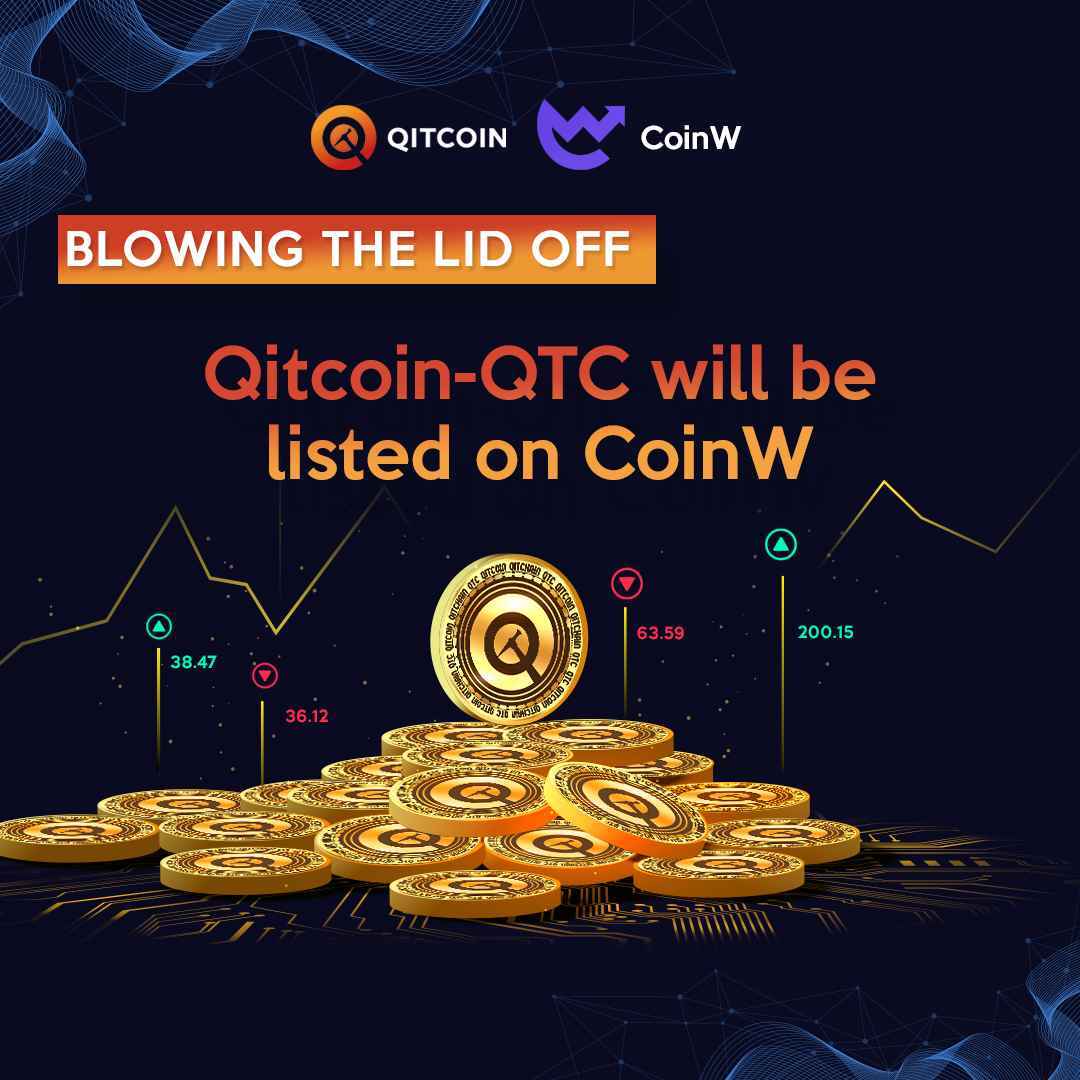 Qitcoin QTC listing on CoinW
Qitchain QTC is abbreviated as QTC. It has a pluggable consensus module that allows users to choose from various consensus protocols. While CoinW is one of the world's most secure blockchain assets trading platform, providing BTC market information, trading service, and market information.
What is CoinW?
CoinW is a world-class reliable trading platform. It launched in July 2017, with companies in 120 countries around the world and headquartered in Singapore. As of now, CoinW claims to have 7M users, with an average daily turnover of 5 billion.
Qitchain Achievements
On October 1, 2021, BitNasdaq has been launched the QTC withdrawal service. Qitcoin QTC ensures the healthy development of the entire coin by establishing a long-term incentive economic model. The model is based on the Proof of Capacity (POC) consensus algorithm.
Ballet Crypto is another achievement of Qitchain network, it is a platform where you can purchase or store cryptocurrency so it will be an easy way to purchase the Qitcoin. They offer secure services where Qitchain will be stored automatically on the user's wallet. Qitcoin is providing an easy-to-use and safe cryptocurrency storage solution that Ballet Crypto has made more straightforward. This storage solution is providing assistance to the global mainstream market. Mainstream adoption of cryptocurrency needs a simple, secure, and trustable method for individuals. This method for individuals to collect and retrieve their own cryptocurrency.
Thus, Qitcoin QTC is block chain based distributed search engine that provides multiple benefits to the users; economic-friendly and environment-friendly are the most important perk of this technology on which users cannot compromise.
Qitcoin will be Listed on CoinW
Launching Date: 12/29/2021 07:00–01/02/2022 16:00 (UTC)
Deposit: 12/28/2021 06:00 (UTC)
Trade: 12/29/2021 07:00 (UTC)
Withdrawal: 12/29/2021 06:00 (UTC)
To celebrate the launch of QTC/USDT on CoinW, it will simultaneously start the "QTC Listing Giving away! Participate to Enjoy $15000 QTC Rewards!" event.
During the event, the daily top-ranked users will receive 100% QTC deposit rewards based on the net deposit amount on the day. A single UID can only receive one reward for the first deposit during the event period.
During the event, users who participated in the transaction of QTC/USDT can share the daily prize pool of $5000 according to personal transaction amount.
CoinW and QTC jointly prepare $1000 QTC airdrop candies for CoinW active users. The airdrop candy will start on December 29, please pay attention to community announcements and do not miss the big airdrop.
Realted Articles
QTC Launch Withdrawal Function On BitNasdaq