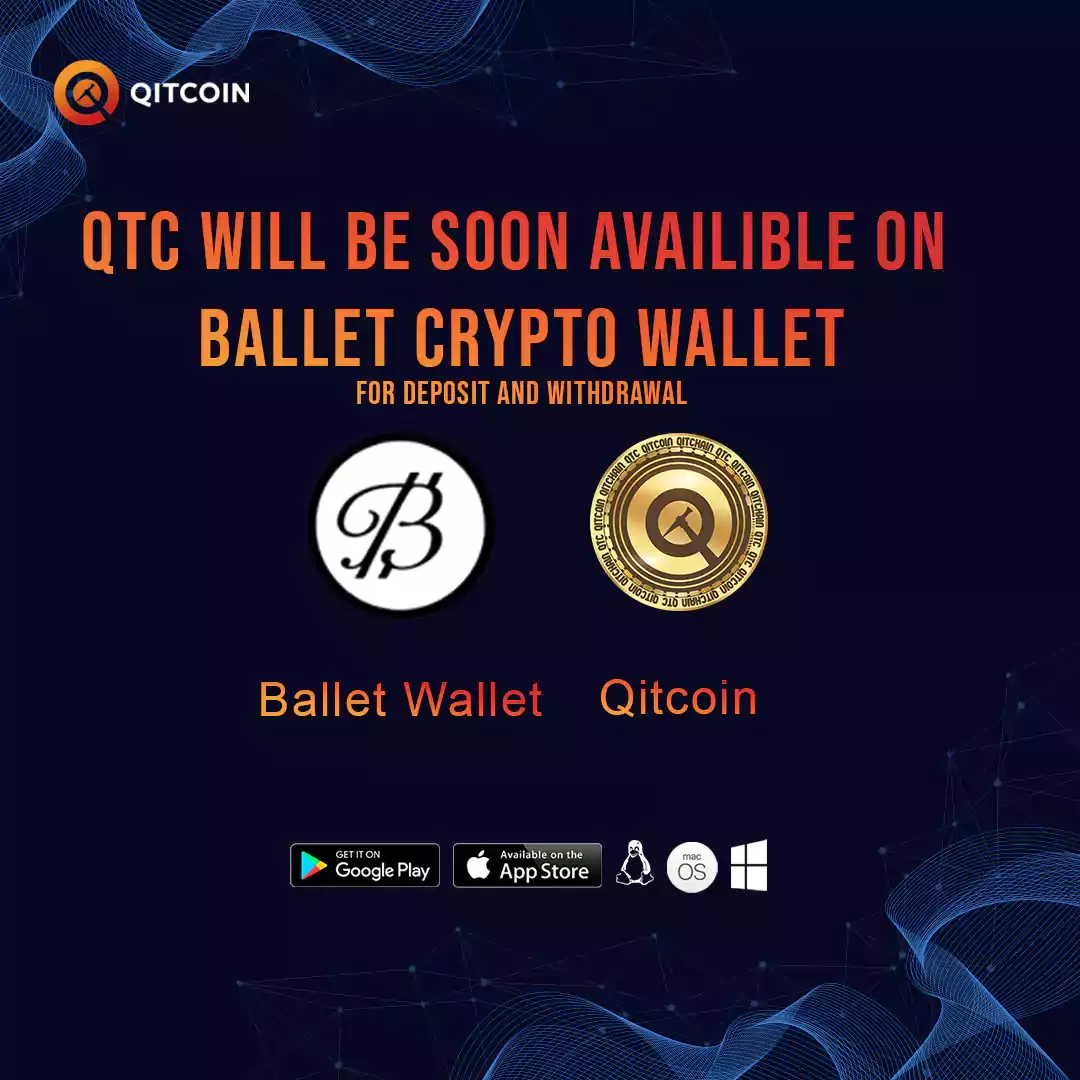 Qitchain-QTC Will Be Soon Available On Ballet Crypto Wallet
Another glad-tiding is here!
Qitchain QTC will soon be available for deposit and withdrawal on Ballet Crypto. All Qitchain storage service providers would be able to get the services of Ballet soon.
IDO tokens and rewards can be collected on ballet, the exchange, and the official website wallet. QTC's IDO event is about to end, thank you fans for your participation and cooperation. More people will own and store QTC soon!
Are you not well aware about Ballet Crypto?
Ballet Crypto is a platform where you can purchase or store cryptocurrency. It will be an easy way to purchase the Qitcoin. They offer the secure services where Qitchain will be stored automatically on user's wallet. These purchase services are handled by third parties and does not sell or send any type of cryptocurrency. It is the simplest cryptocurrency wallet you'll ever use. It is ideal for people with no technical skills and is an excellent way to introduce cryptocurrency to new users by connecting and engaging with the cryptocurrency stored in the wallet.
Ballet Crypto and Qitchain Will Skyrocket Together
Ballet Crypto partners can also participate in the Qitchain network. The team of QTC will continue to communicate with Ballet Crypto. Both, Ballet and Qitcoin will try their best to cooperate with each other and provide in depth service.
This all will be accomplished through the original incarnation of decentralization. Both collectively present ecosystem overview to be a dynamic conceptual map that is subject to change and amendment as we develop thrilling new relationship.
Qitcoin is providing easy-to-use and safe cryptocurrency storage solution that Ballet Crypto has made it more straightforward. This storage solution is providing assistance to the global mainstream market. It is believed that mainstream adoption of cryptocurrency necessitates a simple, secure, and trustable method for individuals to collect and retrieve their own cryptocurrency. Existing programming wallet options on the industry are much complex and difficult for most users to use, resulting in anger, consumer's inconsistencies, and, in some cases, fund loss. This represents a major obstacle that discouraging folks to invest in cryptocurrency. Ballet Crypto and Qitchain together are solving this issue by making it one-click process.
Trading and investing is not scary now. Ballet wallets' non-electronic two-factor private keys protect user funds from hacking. It has reduced the risk of data corruption, and is inevitably quite safe and sturdy than other equipments. QTC is breaking roof while providing a trustworthy path with various breathtaking features entering in to the Meta future. Both offer consumers sense of peace about their investments. Users' funds are always on good hands and readily accessible. The individual's using Qitcoin has complete exceptional authority over the QTC's private keys.
To put it briefly, this is our solution for making cryptocurrency accessible to everyone. It provides a straightforward and elegant user interface that enables new crypto users to break through the adoption barrier. This unique and patented wallet design requires no setup and is ready to use right away. Ballet is the world's most user-friendly cryptocurrency wallet for beginners and Qitchain is the most secure and protective decentralized cryptocurrency.