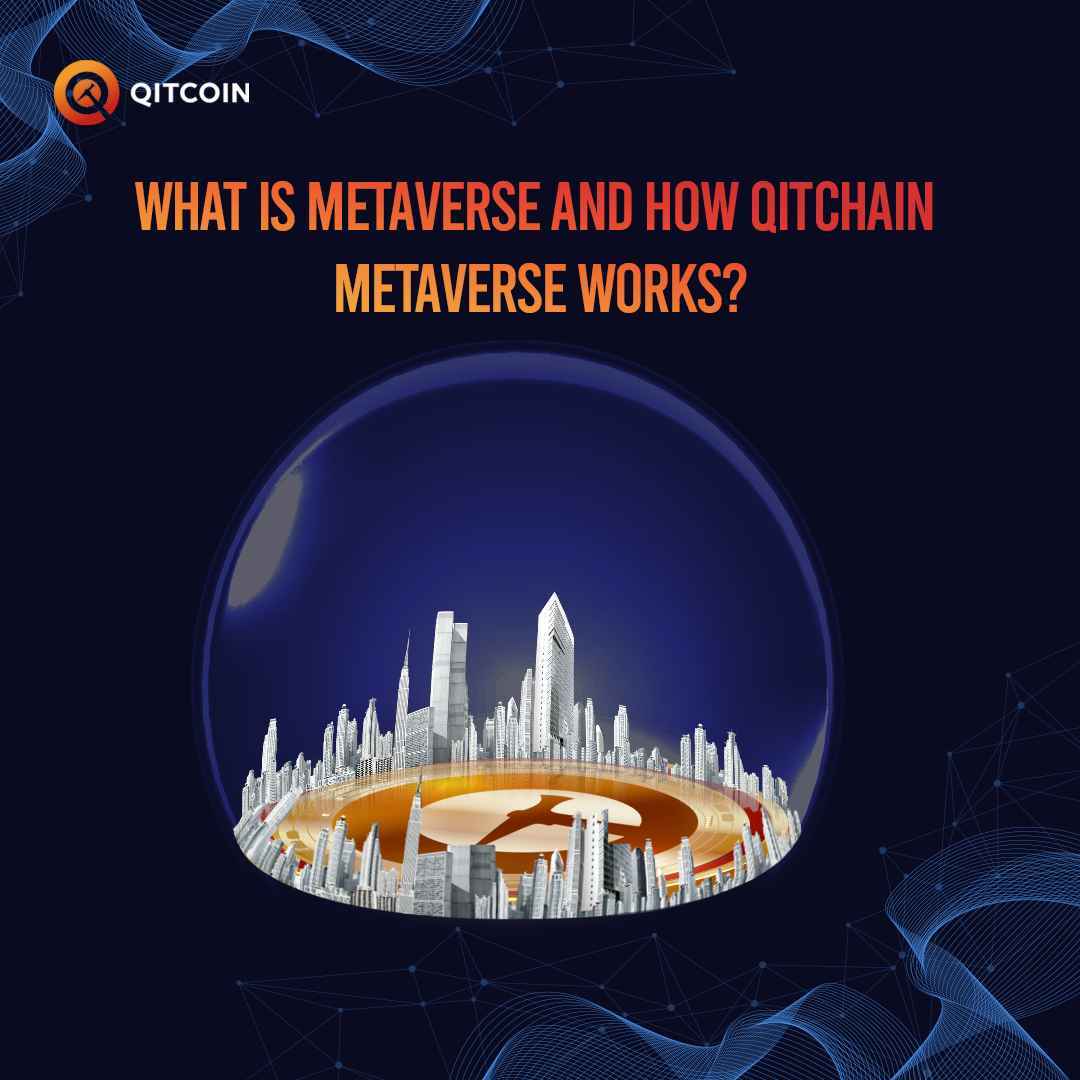 What is Metaverse and How Qitchain Metaverse Work?
Metaverse
The metaverse is a virtual world where people can connect digitally through social media, computer games, virtual reality, augmented reality (AR), and cryptocurrency. Augmented reality refers to real-world scenarios that have visual elements, sound, and other sensory input to enhance the user experience. In contrast, the imaginary reality is a virtual reality that supports false realities.
As the concept of a meta-universe arises, online spaces will improve to allow for more multidimensional user interactions than current technology allows. Instead of simply watching digital content, viewers will be able to absorb themselves in a world where the digital and real worlds interact.
Human beings are no longer limited to their physical appearance. Mankind will enter a new mental civilization. Perhaps we shall be able to touch the illusory world of Meta on our journey to simulation and beyond. The majority of real-world things have different qualities and values.
In the virtual surroundings of the Meta, people can walk around with their friends, visit virtual buildings, and attend virtual events. It is a digital universe in which users can create their own world to replicate their real-world or physical-world experiences on a virtual platform. This concept gains recognition as a result of the Covid 19 pandemic.
People can shop, work, exercise, conduct business, purchase land, and even create art in a virtualized world. It all happens because of this meta technology.
However, just as any economy requires a currency, the metaverse, which is also a fully immersive virtual economy, requires a mode of payment. Because all the activities and interactions in the virtual world take place through the user's created person, it is not feasible to transfer traditional paper currency.
How much will it be worthy?
It has primarily become the platform for lending and trading crypto assets (Uniswap and Aave), as well as auctioning digital art (OpenSea).
The use of Qitcoin as money does not invalidate fiat, cryptos, or other value stores. It is purely a supplement – one that has the potency to become a meta currency. A thriving ecosystem is changing this, as Qitcoin can now be used for NFTs, validation, DeFi, social media, and other purposes.
In fact, in the real world, we have seen a significant shift toward people actually using blockchain technology by withdrawing their tokens from exchanges. Asset tokenization and interoperability between Defi applications just getting started in creating open, tradable markets for previously illiquid assets.
Capital that can be purchased and sold against each other, used as assets. They can instantly send to any area of the globe begin to act much more like money rather than property or retail chains of value.
Play-to-earn gaming is the most likable activity and is still in its early stages. But, the Ronin-based NFT game Axie Infinity has already been generating millions and millions of dollars in annualized revenue.
Users all over the world rely on game revenue to make ends meet, with revenue accounting for a sizable portion of the GDP.
The link between gaming and finance is becoming more evident.
For better or worse, as the digital economy evolves, the concept of currency will become more ambiguous. As it did with the launch of credit and debit cards, online payments, and the shift from paper to electronic money.
Facebook into Meta: Technological Advancement:
After Facebook's recent corporate rebranding as Meta Platforms, the term invented by Stephenson — the "Metaverse" — has unexpectedly become the blanket term employed by different tech companies, big and small. Metaverse is a digital experience that combines virtual reality, mobile games such as Roblox Inc. RBLX and "Fortnite," cryptocurrencies, streaming video, 5G, social media, email, and artificial intelligence.
According to Bloomberg Intelligence, its market will be worth $800 billion by 2024, demonstrating its vast properties and sweeping technologies. Meanwhile, Roblox CEO David Baszucki forecasts a potential market of $200 billion or more in the categories of smartphone, streaming content, and social media.
There are much more daring guesstimates, such as Morgan Stanley analyst Brian Nowak's vague reference to an $8 trillion total marketplace among US consumers, that emerge with numerous caveats.
Adoption will be "slow and difficult," according to Nowak, due to concerns about the virtual experience. Users deeply mistrust Facebook with their personal and corporate data, and Facebook's lack of enterprise technique expertise. In a nutshell, it is an ocean of technological jargon that simulates a digital replica of how we live in the real world.
Is Decentraland a Metaverse?
Blockchain technology powers and makes the transactions highly secure and trustworthy. Blockchain-based apps and Metaverse like Axie Infinity, Decentraland, and Second-Live enable people to play-to-earn, own virtual land, and do a variety of other things. Non-fungible tokens (NFTs) are more than cryptographic tokens in which the ownership details of virtual assets are encoded.
Decentraland is one of the biggest Meta cryptos. Decentraland (MANA): Decentraland is a VR – based space where users can purchase, retain, and monitor LAND. Individuals in this virtual world can develop their LAND whether via mobile, personal computer, or other devices.
Decentraland is based on the Ethereum blockchain. It has been well received by the general public (including novice users), with its value increasing 400% shortly after Facebook rebranded itself as Meta. This also sparked a surge in interest in cryptocurrency.
NFT and Gaming
NFT perfectly matches the qualities of the game's props, such as Axie Infinity. This type of game frequently demonstrates the volatility resistance of the market. If a game truly wants to be world-class, it must consider NFT.
The blockchain has significantly aided the game industry. It is not only smart contracts but also the high inflow traffic and global payment channels. The attributes of NFT are well apt to this situation, enabling many things in the digital world to make it generalized. Qitchain commits to using the blockchain's open, clear, and measurable attributes to accomplish the modeling from the physical to the digital world.
The meta-universe shall build soon a long-awaited utopian city. Participants in this virtual reality promoted by the blockchain can have a very wide and affluent imagination. It includes game playing, displaying self-made art, possessing and auctioning virtual property, and so on.
We will be able to touch the illusory world of Meta in this journey of simulation and beyond. It's also a prerequisite for creating comprehensive data. The vast majority of objects in the real world have distinct properties and values.
Qitchain with Metaverse
Qit Metaverse is having the support of the ecosystem's other two cores and radiation belts. It plans to launch the products in the future. This is a completely decentralized virtual world that can be searched. Users can enjoy the convenience of virtual meetings. Also, users can satisfy and negotiate with customers or play a game for quite a while to relax.
In addition, to all these benefits users can also benefit from an unusual virtual economic system. They can manage land acquisition through a decentralized organization such as Qitcoin. Individuals can also hire out the space for payment or raise and breed unusual pets to sell for a profit. The ecosystem includes all the meta-universe initiatives projects that usually are in the early stages of development.
Three Cores and Two Radiation Belts
As ecological system construction plan is having "three cores and two radiation belts," which include core support Qitcoin Network, core service Qit Search, core world Qit Metaverse, service radiation belt, and technology radiation belt. Blockchain technology is mainly using documents and guarantees the authority of consumers' crypto assets. The volume of information still holds on centralized servers.
Moreover, It has not been shielded to fit ownership, trying to put virtual holdings' integrity at risk. This risk has been eliminated because Qitcoin is a decentralized storage system. The use of blockchain technology to protect ownership is pointless unless there is comprehensive and trustworthy storage closed loop.
However, we have Qitchain, which is one of the few complete and reliable storage closed loops available today.
Conclusion
Qitchain QTC has a high degree of security, efficiency, scalability, and low cost. The vast online footprints of users and the creation of online works have produced an incredibly large data kingdom. Qitchain determined to use the open, transparent, and traceable qualities of the blockchain. This is the step to initiate different market projects of Metaverse. It will be the entrance to the new and developed era.