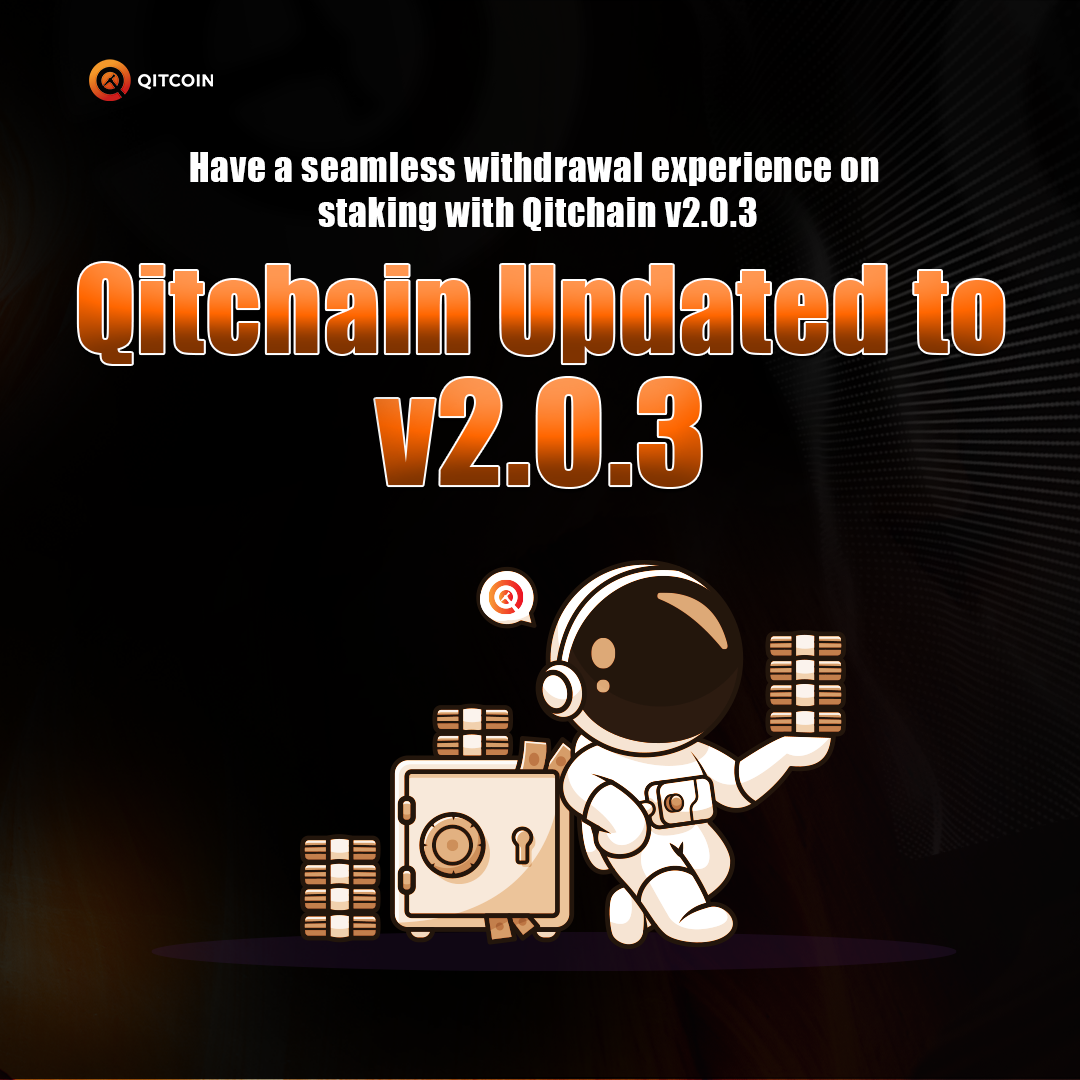 Qitchain updated to v2.0.3
New Release – Upgraded withdrawal experience on staking with Qitchain v2.0.3
The highly anticipated latest Qitchain(v 2.0.3) update has just been released, upgrade includes certain bug fixes from earlier versions that have been resolved in real-time.
Qitchain v2.0.3 has introduced a seamless withdrawal experience for its staking platform, making it easier and more convenient for users to manage their assets. With this latest update, We have taken a significant step forward in improving the user experience for its staking platform, making it more user-friendly and efficient.
Qitchain is a decentralized platform for supply chain management that leverages blockchain technology to provide transparency, security, and efficiency. This means you can now enjoy a smoother and more efficient user experience!
While Qitchain(v 2.0.3) doesn't boast any brand-new features, it is packed full of essential bug fixes and technical updates that make this technology stronger and more reliable than ever before.
Smooth withdrawal Staking Process
One of the significant benefits of the upgraded withdrawal process is that it eliminates the need for users to wait for their staked assets to be unlocked before withdrawing them.
The new withdrawal process also makes it easier for users to manage their assets, especially when responding to market changes. With the ability to withdraw assets in real-time, users can quickly react to market trends and make informed decisions about their investments.
The technical updates in the new version(v2.0.3) have also fixed bugs affecting the staking experience for users, leading to a smoother staking process with lesser technical issues and enhancing user satisfaction on QTC.
With greater flexibility and control over their assets, real-time withdrawals, and a smoother staking process, users can now enjoy a more convenient and efficient staking experience.
Enhanced user Experience & Less Load time
Recently released updates with an improved Qitchain(v2.0.3), aimed at enhancing the user experience, improving load times, and staking transaction checks. At Qitchain, we are dedicated to providing our community with a more transparent, private, and secure platform so that our users can make informed decisions to stake their QTC.
The updated user interface offers the convenience of toggling and functioning fast load times while the users check their track record of transactions at an optimized speed. Furthermore, there is greater agency and clarity in the staking transactions.
We understand the importance of constantly improving and optimizing our platform, and we are committed to achieving this goal through regular updates and enhancements. Our team continuously works to provide our users with a smooth and secure experience on our platform.
We prioritize transparency and privacy in all our endeavors and remain committed to upholding these values through our ongoing efforts to improve our platform. We appreciate the trust and support of our community, and we will continue to work tirelessly to deliver a safe and reliable experience for all users of Qitchain.
Finally, Qitchain v2.0.3's new withdrawal process significantly improves its staking platform, providing users with a more convenient, efficient, and user-friendly experience. With this latest update, Qitchain has demonstrated its commitment to delivering a top-quality staking platform that meets the needs of its users.
Whether you are an experienced staker or new to the platform, the new withdrawal process will make your staking experience with Qitchain plain sailing.
We are excited for you to explore and enjoy the new experience.
We welcome you to submit any feature requests here.