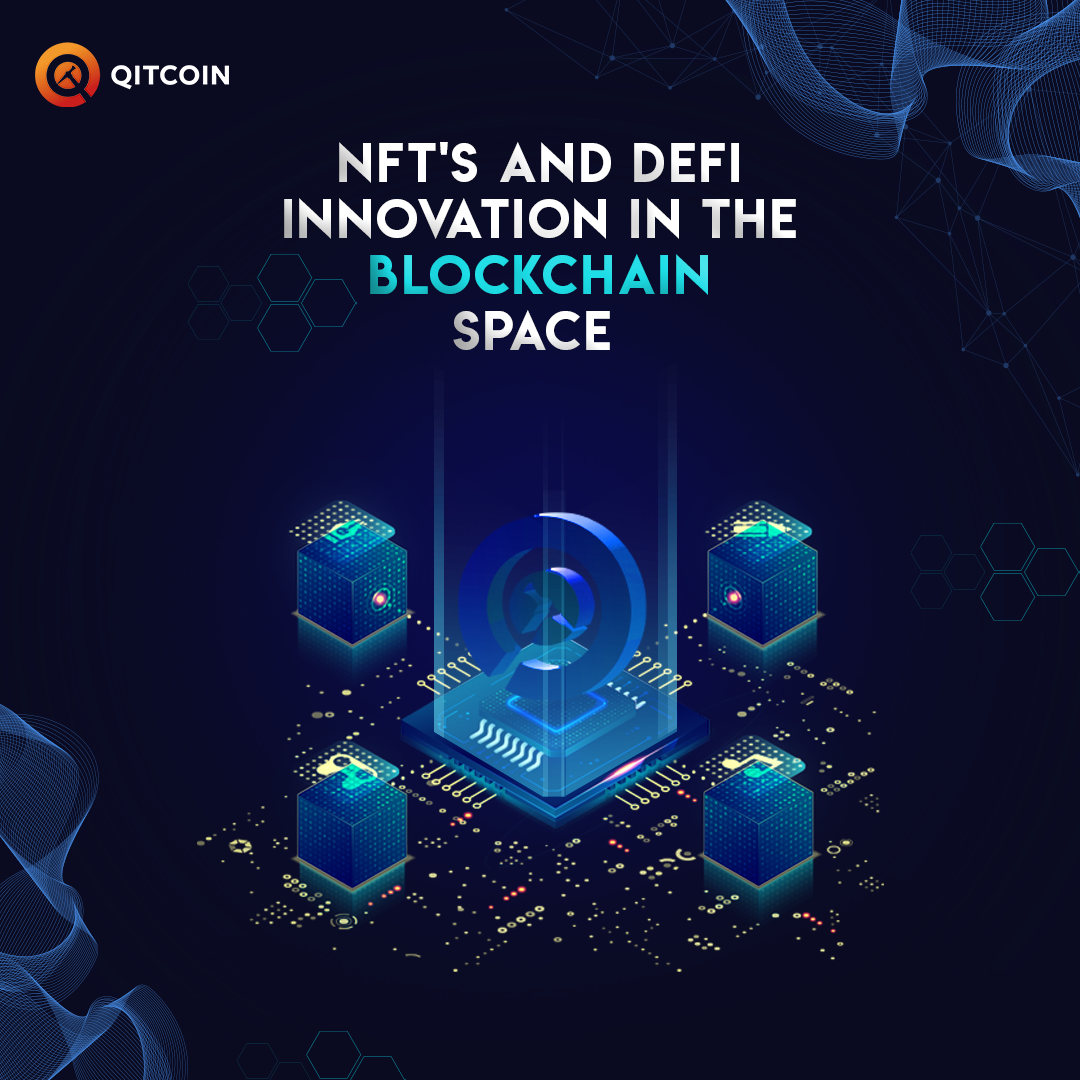 NFT's and DeFi Innovation in the Blockchain Space
At Qitchain, we are committed to bringing you the latest in cutting-edge technologies. Our team is made up of experts in the fields of blockchain and decentralized finance (DeFi), and we are constantly exploring new ways to use these technologies to improve your lives.
NFTs are digital assets that represent unique, tradable items, while DeFi is a set of financial applications that are built on blockchain technology.
NFTs (Non-Fungible Tokens) are a key part of the blockchain ecosystem, and we believe they have the potential to revolutionize the way we interact with the digital world. We are excited to be at the forefront of this growing industry, and we are committed to bringing you the best possible products and services.
At Qitchain, we want to make it easy for you to understand the world of NFTs and DeFi. We provide clear, concise explanations of these complex concepts, as well as guides on how you can start using them yourself. Whether you're a newbie or an experienced crypto trader, Qitchain has something for you.
Qitchain is a platform that allows users to create, share, and use decentralized apps (DApps). DApps are applications that run on a blockchain network, and don't require a middleman to function. Qitchain makes it easy for anyone to create and use DApps, without having to learn how to code.
What NFTs Can Do for DeFi:
Qitchain is a cutting-edge blockchain company that is using the power of decentralized finance (DeFi) to revolutionize the way the world does business. Our platform provides businesses with a secure and efficient way to manage their supply chains, and our NFTs (non-fungible tokens) can be used to power a wide variety of DeFi applications. With Qitchain, businesses can enjoy all the benefits of blockchain technology without having to worry about the complexity and security implications.
Non-Fungible Tokens, or NFTs, are quickly becoming a popular way to represent unique digital assets. From virtual pets to real estate, there is no limit to what can be tokenized with NFTs. This makes them perfect for use in decentralized finance, or DeFi.
DeFi is an exciting new area of cryptocurrency that allows users to create and use financial contracts entirely on the blockchain. These contracts can include anything from simple loans to complex derivatives. NFTs are perfect for use in DeFi because they can represent assets that are unique and not interchangeable. This ensures that each contract is truly unique and cannot be copied or manipulated.
NFTs are already being used in a wide range of DeFi applications. One of the most popular is the 0x Developer Kit, which allows users to create and trade ERC721 tokens. Other projects that utilize NFTs include Augur, LendingClub, Dharma, and Melonport.
As DeFi continues to grow in popularity, it is likely that NFTs will become an increasingly important part of the ecosystem.
Because they are so versatile, NFTs can be used for a wide range of purposes in the world of DeFi, or Decentralized Finance. Some of the most popular applications for NFTs include:
-Asset ownership: NFTs can be used to represent ownership of physical or digital assets. This can provide an easy way to track and manage these assets securely and transparently.
-Collectibles: NFTs can be used to create digital collectibles that can be traded or used in games or other applications. This allows people to own and trade rare items in a secure and decentralized manner.
-Microtransactions: NFTs can be used to process small transactions quickly and easily, making them ideal for use in online marketplaces and other applications.
How are NFTs and DeFi Driving Innovation in the Blockchain Space?
In the blockchain space, there is a lot of talk about the potential for using NFTs (non- fungible tokens) and DeFi (decentralized finance) to drive innovation. But what does this actually mean?
NFTs and DeFi are two of the most exciting and innovative aspects of the blockchain space. NFTs are tokens that are unique and cannot be interchangeable with others. This makes them well-suited for representing unique assets, such as artwork, collectibles, or even real estate. DeFi is the term for financial applications that are built on top of a blockchain infrastructure. This includes things like decentralized exchanges, lending platforms, and stable coins.
Together, NFTs and DeFi have the potential to revolutionize how we interact with money and assets. They can help us to create new ways of financing projects and investing in opportunities. They also have the potential to make our economies more efficient and transparent.
NFTs and DeFi are two of the most important driving forces behind innovation in the blockchain space. NFTs (non-fungible tokens) are unique digital assets that can be used to represent anything from virtual goods to real-world assets, while DeFi (decentralized finance) is an umbrella term for a range of financial products and services that are built on top of blockchain technology.
Together, NFTs and DeFi are paving the way for a new era of innovation in the blockchain space. They are helping to build a more decentralized world where users have greater control over their finances and data. As these technologies continue to evolve, we can expect to see even more amazing innovations in the years to come.
Qitchain and NFT's
Qitchain QTCs is a revolutionary new form of cryptocurrency that builds at the blockchain. They assist you to preserve your virtual belongings steady through storing them in a database referred to as the "NFT."
As against being left susceptible with most effective one character having access, those databases may even keep different customers' transactions too so there's no want for additional security features or issues approximately frauds getting their arms on it.
Qitchain is a cryptocurrency with code that makes it extra hard to assault than others. Qitchain's shape and thoughts are much like the ones of different cryptocurrencies however they have got a few variations as nicely which includes how consensus works on their network.
For example, in view that there's no mining worried with this coin so it's far quicker while transactions arise as an alternative of getting an inflation charge this means that you do now no longer want an entire lot of cash.
The destiny of garage for NFTs, or Non-Fungible Tokens is in a decentralized and repairable system. Qitchain offers a software situation that could continually be born while there's a marketplace boom — much like organic evolution.
They are one task amongst many tasks to pop out from this booming technology with their very own precise capabilities to provide individuals who make investments now as opposed to in a while down the road due to the fact they have got found out how a whole lot capability those tokens have at being really well worth something extra than what became firstly purchased/created through customers themselves, Qitchain is a game-changer. This new era will permit NFTs to completely combine use-price into the blockchain, and its miles handiest simply begun. Qitchain's IPFS decentralized addressing technique has stepped forward metadata garage for all styles of foreign money on their community an interesting improvement that alerts what's coming subsequent in crypto-economics (specifically extra interconnectedness).
In the future, we are able to appearance again on NFT and think about its utility in ordinary life. It has given us a manner to make virtual property extra tangible than ever earlier than with real-global packages along with trusts or possession rights for highbrow assets that turned into formerly handiest reachable via paper deeds deed information all way to blockchain era.
The Risks and Future of NFTs and DeFi
NFTs have created pretty a massive splash in 2021, many people are debating over how lengthy the NFT fashion might last. So, it's miles critical to mirror on distinguished NFT dangers and demanding situations. NFTs or non-fungible tokens are specific virtual assets. They have wonderful properties, and its miles hard to change them with different assets.
Non-fungible tokens have made their manner into exclusive styles of programs inclusive of music, area names, artwork, and actual estate. While NFTs display promising possibilities for increase withinside the future, it's miles affordable to mirror at the capacity NFT dangers. The following dialogue allows you discover a certain assessment of dangers and demanding situations related to NFT that will help you recognize them better.
On-fungible tokens or NFTs are a very new sort of virtual asset, thereby implying the opportunities for radical fluctuations and uncertainty withinside the NFT ecosystem. The common types of NFT challenges encompass the following,
Legal and regulatory challenges: NFT does now no longer have a particular definition and may describe a huge kind of assets, and is based best on precise traits. For example, NFTs are unique, they're now no longer interchangeable, and they're now no longer fungible. However, there are a few examples of regulatory methods directed toward NFTs. In the case of Europe, the European Commission's proposed Markets in Crypto-assets (MICA) Regulation may want to offer a regulatory framework for NFTs. The significance of reflecting at the felony and regulatory NFT dangers is truly obvious from the technological development in NFTs. As NFTs keep growing and extend into distinctive use cases, the legal guidelines and guidelines need to be able to adapting. As of now, among the current legal guidelines relating NFTs are caught on locating the proper definition for NFTs. With the growing range and variety of NFTs, it's miles hard to discover a strong floor for compliance in NFTs.
Evaluation challenges: Another pinnacle addition amongst non-fungible tokens dangers and demanding situations refers back to the uncertainty in figuring out the fee of NFTs. The valuation of NFTs relies upon substantially on shortage and the notion of proprietors and shoppers along the supply of distribution channels. It is extraordinarily tough to count on the identification of the subsequent purchaser of an NFT or the viable elements that can pressure their buy. Therefore, the fee of NFTs could essentially depend upon how the purchaser perceives their price, thereby main to fluctuations.
Intellectual Property or IP rights: The subsequent crucial access amongst threat and demanding situations of NFT refers to highbrow belongings issues. It is critical to take into account the possession rights of a character to a selected NFT. When you are attempting to buy an NFT, its miles critical to discover whether or not the vendor honestly owns the NFT. There had been examples of humans clicking images of NFTs or minting NFT replicas. So, while you purchase an NFT, you most effective get the proper to apply the NFT as opposed to highbrow belongings rights. The phrases and situations for possession of an NFT are obtrusive withinside the metadata of the underlying smart contract. The NFT dangers and demanding situations associated with highbrow belongings rights advise that shoppers most effective have the proper to show NFTs and that they're the only proprietors. The obstacles of NFTs also are obtrusive in phrases of the carrier that customers have to observe while the use of NFT marketplaces. However, it's miles critical to beat back all misconceptions concerning conventional regulation now no longer being relevant for decentralized blockchain technology. So, it's miles critical to mirror on critical IP rights issues which includes copyrights, trademarks, patents, ethical rights, and the proper to publicity.
Cybersecurity and fraud dangers: The increase of the virtual international and impressive increase in reputation of NFTs has led to distinguished cybersecurity and fraud dangers. Another distinguished mission related to the dangers and demanding situations associated with NFTs in cybersecurity refers to faux NFT shops. The faux NFT shops should promote off NFTs which aren't gift withinside the first place. At the identical time, customers need to additionally be cautious of the issues because of artist impersonation or counterfeit NFTs.
Some malicious marketers can impersonate well-known NFT artists and promote faux NFTs of their names. The different distinguished non-fungible tokens dangers and demanding situations associated with cybersecurity and fraud consist of copyright theft, replication of famous NFTs or faux airdrops, and NFT giveaways. You have to additionally notice the threats of dangers because of social media scams that can sell NFTs.
Anti-cash laundering (AML) and CFT challenges: The point out of smart contract danger and demanding situations of NFT renovation is likewise one of the distinguished issues withinside the NFT panorama presently. Most recently, the renowned DeFi protocol Poly Network, offering cross-chain interoperability, turned into below assault via way of means of hackers. With almost $six hundred million stolen withinside the NFT theft, the incident attracts the limelight closer to profound setbacks in smart contracts security.
Smart Contracts Risks and NFT maintenance: The mention of smart contracts hazard and demanding situations of NFT upkeep is likewise one of the outstanding issues withinside the NFT panorama presently. Most recently, the renowned DeFi protocol Poly Network, offering cross-chain interoperability, under attack via means of hackers. With almost $600 million stolen withinside the NFT theft, the incident attracts the limelight closer to profound setbacks in smart contract security.
Consideration of NFTs as securities: The attention of NFTs as securities is likewise one of the outstanding entries amongst non-fungible tokens dangers and challenges. The Chairman of SEC has said that almost all of NFTs supplied withinside the marketplace are bought as securities. However, the Supreme Court has related NFTs with the definition of a funding contract. Therefore, NFTs must observe the particular necessities of the Howey Test to show off eligibility as securities. The vital tenets of the Howey Test consist of the following,
· Checking whether or not the NFT in query is a protection
· If the NFT is a protection, then take a look at whether or not it's been registered in line with the Securities Act of 1993
· If the NFT is protection, take a look at whether or not individuals have registration as securities broker-dealers
· Check whether or not the structures for protection-like NFT transactions have registration as securities exchanges
· Take the legal responsibility publicity for protection NFT dealers according with the SEC Rule 10b-five for Employment of Manipulative and Deceptive Practices into account.
While Defi in primary terms, makes use of peer-to-peer networks to behaviour transactions without third-celebration intermediaries. Digital belongings, which include cryptocurrencies, take the shape of "smart contracts," which can be self-executing algorithms primarily based totally on blockchain technology. "Tokenization" is a vital element of DeFi. Virtual and bodily belongings may be grown to become into "tokens" that act as shops of price and may be utilized in economic transactions. They additionally provide the holder a vote withinside the governance of a protocol or platform.
Why will DeFi remodel the economic machine? Because it could resolve what we see as five inherent troubles of the conventional economic machine: inefficiency, restricted get admission to, opacity, centralized control, and interoperability.
In the nineteenth century, a Western Union cord switch imposed a 3%, was noted. More than a century later, even primary transactions — the use of a debit card, for example — frequently contain huge expenses. Buying an inventory may appear pretty straightforward, however honestly acquiring possession calls for an middleman and might take tremendous time. With DeFi, the execution and agreement of a change can manifest simultaneously.
Limited get admission to the economic machine is an extreme worldwide problem. Removing the ones obstacles ought to join billions of human beings to the economic offerings they need. An anticipated 1.7 billion human beings are unbanked or even greater are underbanked. The impediment for lots in those cohorts is economic friction. For example, immoderate value of capital — banks restricting get admission to loans with decrease costs and alternatively offering traces of credit score at a great deal better interest — prevents many small organizations from pursuing initiatives that would raise monetary growth. DeFi can immediately deal with the re-assets of economic friction.
That DeFi ought to ease opacity withinside the monetary device may also come as a marvel to the skeptics. In August 2021, for example, US senator Elizabeth Warren wrote to Gary Gensler, the chair of the United States SEC, caution approximately the want to alter the crypto markets and describing DeFi as "distinctly opaque."
Centralized manage and attention are vital elements of the present-day monetary device. That method that financial savings costs are decrease than they ought to be, borrowing costs are better than they ought to be. Maybe humans are excluded.
"There's no difference among extraordinary actors withinside the [decentralized] space," he added. "Everybody is equal."
Finally, interoperability is an unavoidable structural hassle in conventional finance: Various limitations save you extraordinary systems and structures from connecting to every different. If a person desires to open an account with an internet buying and selling platform, they must switch cash from a financial institution account. The system ought to take days earlier than the brand new account is prepared to trade.
In decentralized finance, it's dramatically extraordinary. You have pockets, and also you visit an exchange, you join your pockets, and also you're equipped to cross. Indeed, that is a function of the so referred to as Web 3.0 experience. You join your pockets and also you're equipped to cross. You're equipped to buy. You're equipped to acquire funds. You're operational. And Web 3.0 isn't always feasible without decentralized finance.
Related article: NFT storage