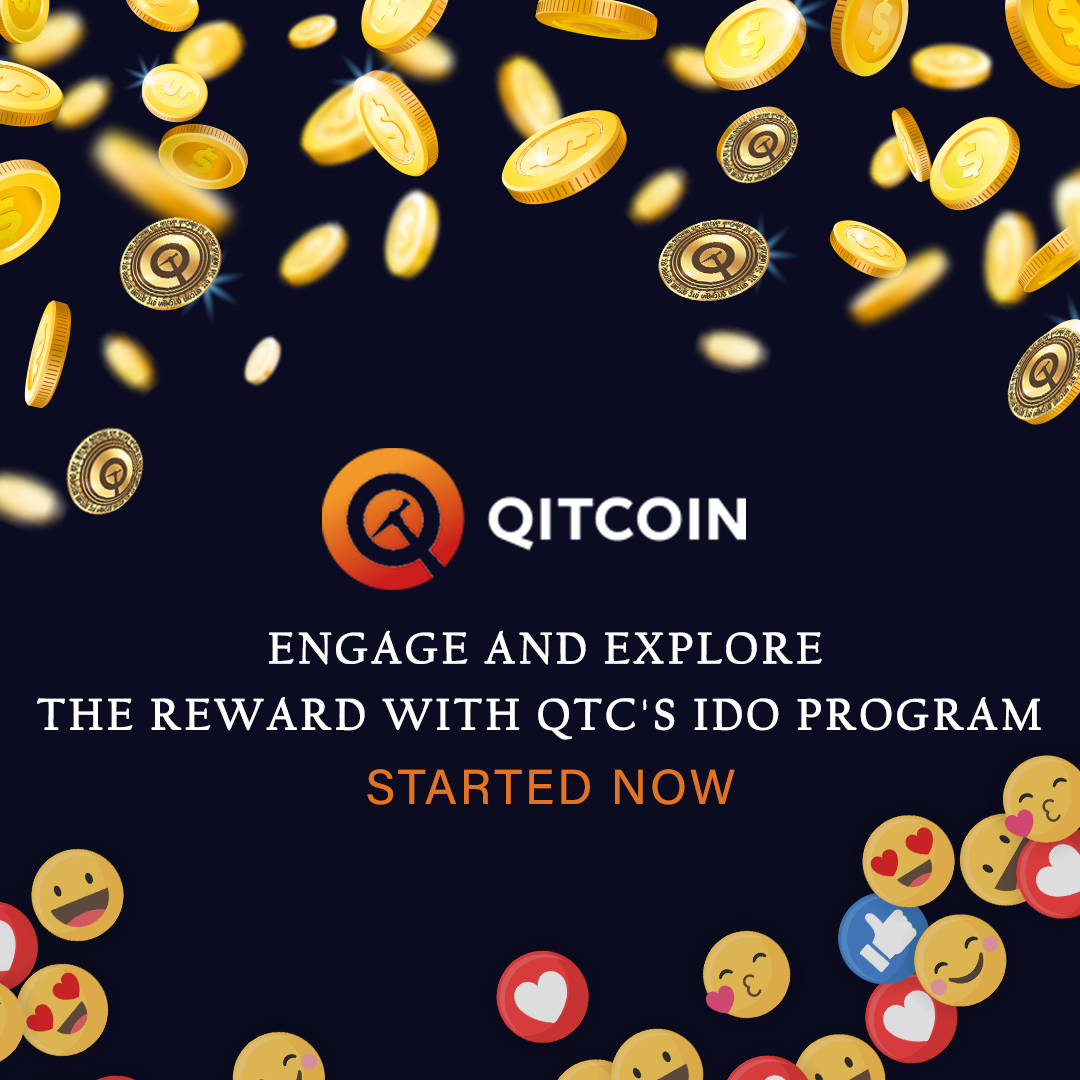 Engage and explore the reward with QTC's IDO Program
Hey everyone! Are you ready for your rewards we are super excited to announce good news for all of you:
We are breaking new grounds by opening our first ever IDO program come join us and avail the opportunity to be part of QTC's biggest social media activity.
QTC is about to open IDO activities on Twitter, Telegram and Discord communities will carry out activities at the same time. The activity time is November 5th at 03:00 UTC to November 15th 03:00 UTC.
The first wave of public participation is finally opened since the main network of distributed search engine QitChain was launched. Qitcoin has announced the opening of a worth $120,000 QTC event that will be live on Nov 5 at 03:00 AM UTC.
All eligible participants can receive rewards from $30 QTC up to $300 QTC.
There is also a chance to participate in the lucky draw.
There are various ways of taking part in the activity:
You can get 0.5QTC by following the QTC official Twitter and participating in the activity if the following conditions are met:
First essential step is to repost our Twitter post where QTC has officially announced IDO activities, and bring the hashtag #Qitchain #QTC. After that, join the QTC official Telegram and Discord group. Take and keep the screenshot and submit it to us.
QTC miners and holders interact with QTC official Twitter accounts, including but not limited to the following forms:
You can publish QTC software operations on your twitter account with the tagging of Qitchain's official Twitter account or by running video at QTC Official Twitter (@Qitcoin_QTC). Another way is to post the problems and solutions found during the operation of QTC related software in text or video on Twitter and QTC Official Twitter (@Qitcoin_QTC). Publish the latest developments of QTC on the trading platform and QTC official Twitter (@Qitcoin_QTC).
Note: If you meet one of the above conditions or any other interaction with the QTC official, after the official approval and forwarding, you can get a reward of 0.5QTC.
Another reward is waiting for you. QTC officials will randomly select lucky users (1% of the total number of participants) from the above winning users, and reward 2QTC.
Original QTC video or article
You may post or repost original article or video of Qitchain on Twitter.
Make and publish QTC related videos
Participants can make and publish QTC related videos on QTC's different social media accounts like Twitter, Facebook, YouTube (one of them), and @QTC official.
Create and publish QTC related articles
Participants can create and publish QTC-related articles on Twitter and Facebook (one of them), and @QTC official.
More perks are waiting for you!
You can get 5QTC rewards if one of the following conditions is met:
The original article or video of Qitchain is posted and reposted on Twitter and adopted by the official. The above original video or article can be published in Chinese, English, Japanese, Korean or any other languages. It should be published in relevant channels where they can get high attention.
Participation rules:
There are some defined rules for participation. First of all, those who want to participate need to fill the information like user's full name, email address, wallet address, Telegram account name, Twitter account name, participation type in the form given below. Please open the link to fill in the information: https://forms.gle/7XG2hw63fpmJncV8A.
A participant should have the address to receive QTC. Any one of the following address would work to receive QTC in Bit Nasdaq: Ballet wallet address, QTC official wallet address.
Important! There are few users who cannot participate in the activity
Those participants who have one-time accounts, bots, fake users, twitter accounts that are private and not shared with non-friends are not eligible for this activity.
Before taking part in the activity check first to re-follow or re-enter users and our reward distribution rules. Another important element to know is that all award lists will be announced on November 17 and the rewards will be issued no later than June 2022.
The method of distribution is tentatively determined (reward package). The reward package is limited to the total 2000QTC. Rewards shall be provided on first come first served rule. The final interpretation right of the event belongs to the official Qitchain.
So, don't miss this golden opportunity and gear up for the IDO activities that will start on November 5th at 03:00 UTC.
Happy Participation!!